Monday, May 23rd, 2011
---
12:59 pm
- Life Updated
Okay... Posted yesterday but I'm still getting used to the LJ app and it got lost in the ether apparently.
Update on my life for LJ:
Got married August 15, 2010.
Moved to Las Cruces, NM, right after.
Found out I was pregnant a few days later... WAY sooner than we were planning!
Life slowed down after that. Sang karaoke, learned to eat 3 times a day... Started baking.
Had my son, Grayson William, on April 15, 2011. He's now 5.5 weeks old and doing great! Really happy I don't have a job right now and can hang out with him/feed him on demand.
Sometimes I miss my rock n roll lifestyle, but this little guy is too amazing to wish away!
So that's what's happened with me since last I posted... Looking forward to getting back into the LJ world!
Posted via LiveJournal app for iPhone.
Friday, May 20th, 2011
---
8:58 am
Friday, January 29th, 2010
---
2:18 pm
- NAME THAT EPITAPH #1
NAME THAT EPITAPH #1

"Good friend, for Jesus' sake forebeare
To digg the dust enclosed heare;
Bleste be the man that spares thes stones,
And curst be he that moves my bones"
Saturday, August 15th, 2009
---
1:31 pm
Thursday, June 4th, 2009
---
8:56 pm
Someone fucking get a horde character on Lightning's Blade. I'll run you through all of your basic tasks.
9:14 am
Thanks to
eonen, I know really like Blackmore's Night. I love their style. I know she already posted this but I'm sharing with even more people!


Thursday, April 16th, 2009
---
8:25 am
- Karaoke Videos Found
Shitty recording, terrible sound quality but here is some of the first round (I'm at 11:15): http://www.ustream.tv/recorded/1365622

here's the final round(I'm second on the video): http://www.ustream.tv/recorded/1365883

Te round one recording is slightly better.

DJ Hail, the vibrant black guy who sings one after me in the first video is bad ass too. He beat me by one point in the finals. He's at 21 minutes. His final round is at 39:30 on this video:http://www.ustream.tv/recorded/1365753

P.S. y favorite comment I got from the judges was, "I like the way you move so easily and effortlessly around even wearing combat boots."
That's right. I'm that hardcore.
Wednesday, January 28th, 2009
---
10:27 am
- Some Pictures for the LJ Peeps
I made all the pictures smaller. This is why I shouldn't use other people's photobucket accounts. I wasn't paying attention to the size! I hope you enjoy these easier to see photos.





The Sledding Crew! Brendan(Not to be confused with Brandon), Jessie, Noah, and Me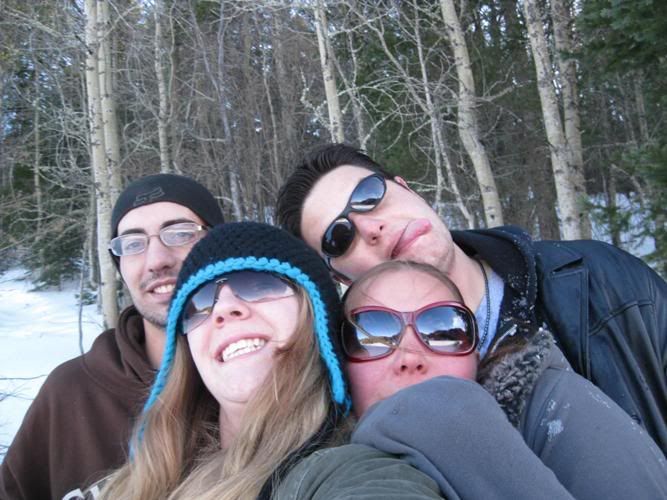 (
More pictures including some of the new boy...
Collapse
)
Tuesday, December 9th, 2008
---
10:53 am
- 2008 MEME
Jacked from
marc17

1) Where did you begin 2008?
In my neighborhood because I had a panic attack at work at the club when my ex showed up and was not very nice.

2) What was your status on Valentine's Day?
Pimp.

3) Were you in school (anytime this year)?
No, but I taught school.

4) How did you earn your money?
Teaching, tutoring and bouncing.

5) Did you have to go to the hospital?
Nope.



(

The rest of the 2008 MemeCollapse

)
Monday, July 21st, 2008
---
11:33 am
I just got this in a MySpace message...

Have fun at DG tonight, I won't be making it, I have the plans. Also, I'm going to not drink for a week to make up for my near constant oni-based drinking.

.
.
.

I am now a basis for drinking.
Thursday, February 28th, 2008
---
2:29 pm
My really cool coworker's son is trying to win a trip to Antarctica and the North Pole.

How we can help:
Ryder is in the finals of a really amazing contest.
The prize is a trip to the ends of the earth! It's
actually 2 trips—one to Antarctica and the other to
the North Pole! It would truly be an experience of a
lifetime.

The contest runs from 2/21 to 3/13. You can vote once
per day, (please do!) EVERY day on each of your
computers. It will take less than a minute of your
time and I would really appreciate it.


1. Go here: http://www.youtube.com/wheresyours

2. Where it says: Home, Map, and Vote, click VOTE

3. Where it says: Next video, scroll to ryder4reel

4. When it goes to his video, click the thumbs up!

Thanks for the help!
Tuesday, February 5th, 2008
---
7:43 am
- I JUST VOTED!
I JUST VOTED!

Today are the California primaries. If you're a CA resident, go vote!
Wednesday, November 21st, 2007
---
3:59 pm
December 5th. The repeal of prohibition. Has anyone taken advantage of this as a club theme yet?
Saturday, November 10th, 2007
---
6:09 pm
Just a reminder, given that I saw a couple people on my list who I haven't friended back:

This journal is primarily friends only. If you want to be added, drop me a line in this post with the whys and crap like that.
Thursday, June 28th, 2007
---
1:07 pm
I drove Nick's car on the freeway last night, across the Bay Bridge. I only almost killed us once. It was fun.






FUCKING FUNNY HEADLINE FROM AOL CELBRITY GOSSIP:

Babies are the new black-- and we're sick of it!
Monday, June 18th, 2007
---
10:42 am
- I love cable sometimes!
Grim Reaper: A hit. You have sunk my battleship!
Dead Bill, Dead Ted: Excellent! Yes!
Dead Ted: I totally knew he would put it in the J's, dude!
Dead Bill: Good thinking, Ted.
Grim Reaper: You must play me again.
Dead Bill: WHAT?
Grim Reaper: Um, best two out of three.
Dead Bill, Dead Ted: No way!
Grim Reaper: Yes way.

------------------------------------------------------------------------------

Grim Reaper: I believe Colonel Mustard did it in the study with a candlestick.
Dead Bill: Sorry, death, you lose! It was Professor Plum!
Grim Reaper: I said Plum!
Dead Ted: No way! You said Mustard! Can we go back now?
Grim Reaper: Uh, best three out of five!
Dead Ted: I don't believe this guy!
Sunday, June 17th, 2007
---
5:04 am
I have no idea who could have left me this comment but it was a sweet thing to come home to at 5am.

u
(Anonymous)
2007-06-17 11:31 am UTC (link)

. for attention thank you
Monday, March 26th, 2007
---
4:52 am
Finally...

In the depths of winter I discovered that there was in me an invincible summer.
Sunday, March 18th, 2007
---
6:07 pm
Monday, March 12th, 2007
---
11:25 pm
One more time:

If you add me to your LJ, drop me a line as to who you are and stuff like that.

This journal is primarily Friends Only so if you want to read it, I have to add you back.